Tuesday, April 20 1976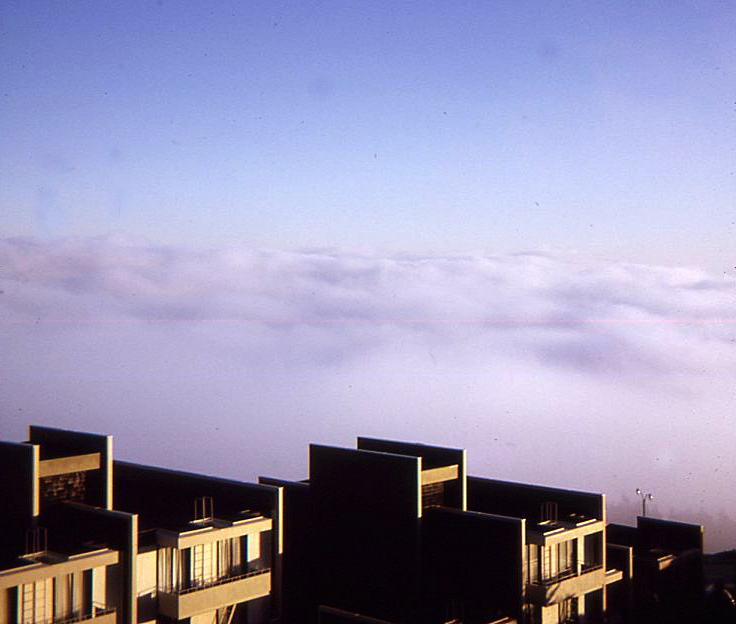 Nice fog this morning. Like a river running over the top of Twin Peaks, the ebb and flow rolling over San Francisco has affected my moods all my life.
The fog sure changed my mother's mood: It trapped her out in the Sunset district, especially when the sun never shone for two and three weeks at a time back when I lived out there.
The irony was we could see sunshine about a mile away over by UCSF.
Now I love to stand in the open window of the apartment and watch the fog linger atop Twin Peaks — as if to catch its breath after the four-mile push inland from the Pacific. Then little fingers of fog, like wax melting from a candle, cascade down the south side of Twin Peaks. When the fog reaches the intersection of Burnett and Portola Drive, it fans out in all directions, and within moments, the view from my apartment window will disappear as if I'm in an airliner dipping into a cloud.
The fog .. . it's always achangin'.
Two flaming new neighbors
Robert and Leon, two real flamers, moved in next door. They call me the "big strong, cop-boy," and kid me about the chicks coming in and out of here.
"Try US sometime," Robert says and Leon winks.
"Whatever," I respond, just like  my sergeant Paul Largent says all the time. I like it, too. "Works for me" — something else Paul always says, as well.
City's changing, too
You can either look at what's going on in this city as a big party and laugh at it all — or tie yourself into knots. That's what's happening to a lot of the old-school Irish-Catholic guys. So many are pissed off, they're moving out of San Francisco. Can't get used to losing control of the city.
Gain becoming chief was a huge blow to them. "Gain .. . No Gain!"
This world and everything in it is changing . . . and ends eventually.
News flash —we're all gonna retire and die someday.
I wonder if the Catholic Church is even starting to die. Hard to believe how that has changed so fast.
I remember my parents dragging me out to the Polo Fields on October 7, 1961, for the "Pray the Family Rosary."
At least 500,000 people jammed into the Polo Fields that day, and  I remember all the cops and firemen in uniform, with their families. Seemed like the fathers of half my class at St. Anne's worked either in the SFPD or the SFFD.
Then, just six years later, 1967. The Polo Fields and Golden Gate Park were filled with nothing but shit-bums and hippies smoking dope.
Shit, I haven't been to church since my mother's funeral in 1967.