Lands End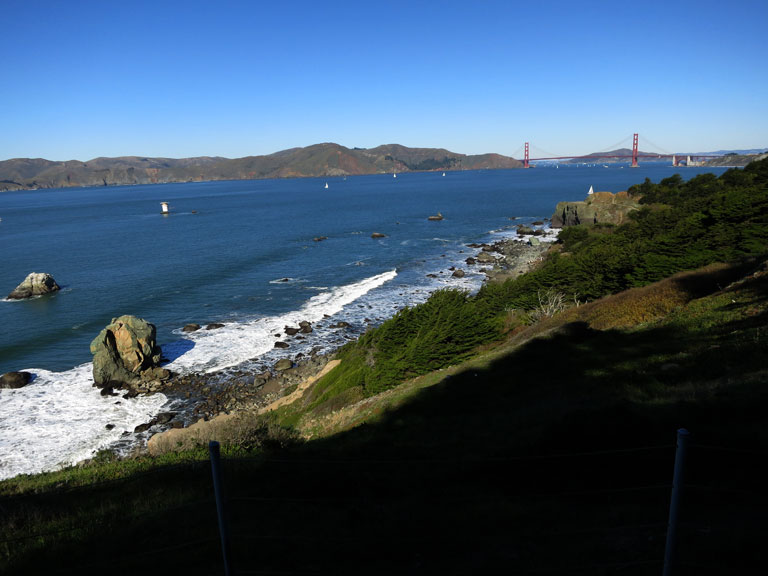 An area in the northwestern corner of San Francisco, overlooking the Strait of the Golden Gate, to the east, the Golden Gate Bridge, to the west, the Pacific Ocean. Part of the GGNRA.
http://www.nps.gov/goga/planyourvisit/landsend.htm
http://en.wikipedia.org/wiki/Lands_End_(San_Francisco)
Labyrinth at Lands End
An 11-circuit labyrinth constructed on a promontory near a former artillery emplacement once used for the Coast Defense of the Golden Gate.
The story's protagonist, SFPD Officer Phillip Mathew McManus, uses the Lands End Labyrinth as his spiritual touchstone. When his doubts, fears and the mean streets of the city challenge his resolve, McManus goes there to "chill-out" and draw energy from the site's amazing confluence of the wind, the land, the sea, the fog, birds, and nature.
Build in 2004 by local artist Eduardo Aguilera from gathered rocks.
http://www.sfstation.com/hidden-labyrinths-a1286
http://paganwiccan.about.com/od/sacredplaces/p/LandsEndLabyrin.htm
http://www.jmg-galleries.com/articles/san_francisco_labyrinths.html
Lands End Coastal Trail
A trail winding through Lands End, Golden Gate National Park and Recreation area.
The site of the discovery by Officer McManus in the predawn hours of Christmas morning 2009, of the body of Pete Cassidy, an All-American family man, former, St. Ignatius High School football teammates of McManus, former NFL player and current San Francisco Assistant Fire Chief, whose been stabbed and brutally murdered.
http://www.yelp.com/biz/lands-end-trail-san-francisco
https://www.nrdc.org/greengate/outside/adv9.asp
Lincoln Park golf course
A city-owned 18-hole public golf course located in the northwestern corner of San Francisco. Build on a former cemetery; opened as a 3-hole course in late 1902.
Located within Lincoln Park, named for President Lincoln and opened in 1909. Served as site of the western terminus of The Lincoln Highway, the first coast-to-coast road across America conceived and mapped in 1913.
Also the site of the California Palace of the Legion of Honor and the San Francisco Holocaust Memorial.
https://sites.google.com/site/lincolnparkgolfclub/History-of-Lincoln-Park
http://en.wikipedia.org/wiki/Lincoln_Park_(San_Francisco)
Richmond Police Station
An SFPD district station which McManus is assigned, working the midnight watch. Patrols the northwestern corner of San Francisco. Includes Golden Gate Park, Lincoln Park and Geary Blvd. McManus's usual radio call assignment is Richmond 6 — the most outlying radio car sector in the city.
http://sf-police.org/index.aspx?page=838
Hall of Justice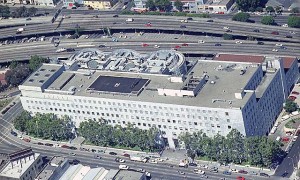 Name of the main San Francisco Police Headquarters, located at 850 Bryant Street, between 6th and 7th . Also the location of some of the San Francisco City and County jail facilities, and courts and other government justice offices.
http://en.wikipedia.org/wiki/Hall_of_Justice
122nd Recruit Class of the San Francisco Police Department
McManus' San Francisco Police Academy Class. Date of Appointment, Monday, September 11, 1972. Author, Bill Fox was a member of the 122nd .
The class is notable for containing the first policewomen, Officers Sandra Daly and Berit Hovde to ever be assignment patrol car duty.
Another member, Officer Robert Brodnick, was the son of a police officer slain in the line of duty.
Two members of the class, Officer, James W. Bloesch, and Inspector Kirk Brookbush would be killed in the line of duty.
Diamond Heights
A residential neighborhood located in the hills of central San Francisco, where McManus lives.
Home for McManus is a top-floor view condominium in Diamond Heights Village atop Red Rock Hill. A "Land of Oz" complex of 14 residential buildings containing 396 privately owned units nestled into 7 acres of well-maintained grounds of trees, garden flora, trickling waterfalls, along with birds that include hawks and owls and sometimes wild parrots.
Fog and the wind are ever-present. McManus spends the majority of his off-duty hours staring out through his condo's twelve-foot bay window taking in the sweeping panorama of the Bay Area. From east to north, McManus can stand in his window and see half of San Francisco and five neighboring counties: Alameda, Contra Costa, Solano, Sonoma and Marin. Through the tri-pod mounted telescope in the window, he could see, on clear days, a sixth county, Napa. Like a huge wall-mounted aquarium, the city's ever-changing moods and delicate beauty are on constant display.
The condo is McManus's refuge, his place to lick his psychic wounds, where he withdrew emotionally and isolated himself from his pain and anxiety of life in the SFPD.
http://www.yelp.com/biz/diamond-heights-village-association-san-francisco-2
St. Ignatius High School
A San Francisco, Roman Catholic high school, now called St. Ignatius College Prep; opened in 1855.
McManus (Class of 1968) attended with characters Pete Cassidy and Colin O'Connell (both Class of 1967.)
"S.I." was then an all-male school that was run by the iron discipline of the Society of Jesus and governed by the spirit of AMDG, or "the greater good of God." AMDG was a call to overcome life's struggles and pursue excellence in order to give that glory to God.
McManus attended S.I. when it was "Stanyan Street S.I.," located at 222 Stanyan at Turk Street, — roughly a mile from the epicenter of Cultural Revolution taking place in the Haight and Ashbury. The forces of the Civil Rights movement, the protests against the war in Vietnam and the values of the Summer of Love were not much in evidence at the S.I. when McManus and company attended in the 1960s.
Nevertheless, the spirit and concept of AMDB resonated with McManus and contrasted with the dysfunction of his childhood. Football was S.I.'s sport and in it, McManus found the outlet for overcoming the inadequacies he saw in his life. To become a football player and a "Gentleman of S. I." was the coveted goal of every Catholic schoolboy in San Francisco. There was no greater thrill than playing for St. Ignatius High School in the city championship game before a huge crowd on Thanksgiving Day.
http://en.wikipedia.org/wiki/St._Ignatius_College_Preparatory
1966 San Francisco AAA "Turkey Day" Championship Game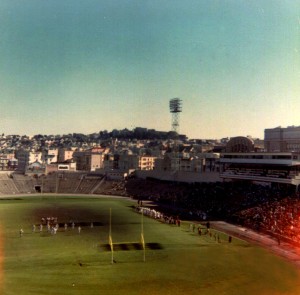 A high school football game, played for the City Championship of San Francisco, Thanksgiving Day, November 24, 1966, at Kezar Stadium between St. Ignatius and Lowell High School.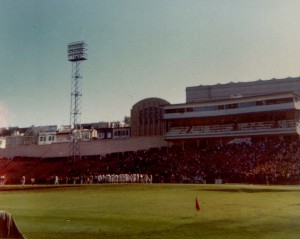 St. Ignatius rooting section moments before the winning touchdown
S.I. won 21-14 on a last second desperation pass that deflected off two players before being caught for the winning touchdown.
Kezar Stadium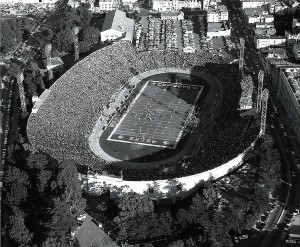 A 60,000 football stadium, located in the southeast corner of Golden Gate Park. Build in 1925, demolished and rebuild in 1989. Original home of the San Francisco 49ers. Site of McManus's high school football games. Including the 1966 Turkey Day Championship game.