Thursday, February 5, 1976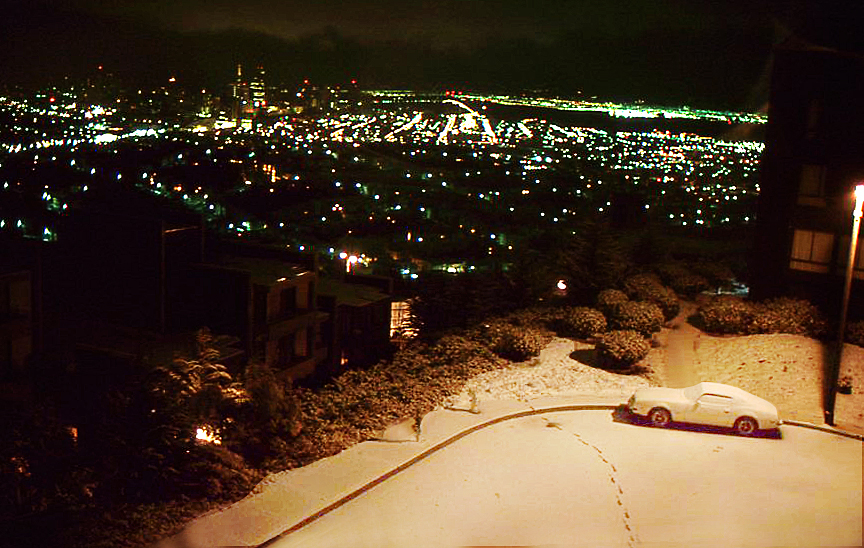 At midnight, I got off work at Park Station and drove home to my apartment in Diamond Heights. I lit a fire in the fireplace, poured a Jack Daniels, and collapsed in front of the window to unwind.
Looking out at the city, I saw clouds, like it was going to rain.
But at about 0130, snowflakes began to collect on the window sill. Amazing!
I'm a San Francisco kid — Sunset district —and I've never seen snow fall. I slid open the window and stuck my head out, feeling the snowflakes hitting my ears. For about 20 minutes, I stood in the window and watched it snow so hard I could barely see across the street.
When it stopped at about 0150, I got my camera, went outside and experienced snow crunching beneath my feet on Red Rock Way in San Francisco Even more amazing, I had the snow and the moment all to myself — no one else was awake.
I debated whether I should start to scream, "Snow! Snow! Snow!" But I didn't.
There were about two inches of snow on the ground. and I could see my footprints. Unfortunately, I only had six frames left on a roll of the 500 film.
I took three pictures of Red Rock Way, and the snow-covered fireplug — with the city in the background. Then I saved the remaining three frames for morning.
Snow is a once-in-a-generation event in this city. I remember the last time it snowed, in January 1962.
Maybe this is a harbinger of good stuff to come.  After all, the Giants went to the World Series in 1962!!!!
We need some good stuff to happen.