Saturday, January 8, 1977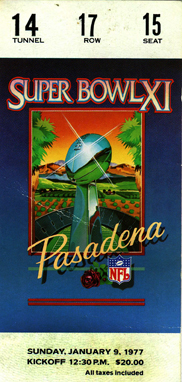 Colin O'Connell and I drove down to Pasadena today for tomorrow's Super Bowl XI at the Rose Bowl. Attending a Super Bowl has been one of my big dreams. Colin was able to get two tickets from one of his drinking buddies, a Raiders season ticket holder. He sold them to us at face value of $20 each, so that was cool.
As we drove along Highway 5, Colin and I talked about Pete Cassidy, and how this will probably be his last game for the Raiders. The guy's lived quite a life. Of course, the three of us share that bond of scoring the winning touchdown that beat Lowell ten years ago in the Turkey Day Championship game at Kezar.
That would be pretty amazing if the Raiders win, and Pete goes out with a Super Bowl ring. The guy has played maybe half a game as quarterback for them the last five years. But he's made enough money to buy that "octagon house" that's perched on the edge of Sunset Heights. It's one of the most unique homes in San Francisco, with a view of the western half of the city, the Golden Gate Bridge, the Marin Headlands and the Pacific Ocean.
He's on the SFFD hiring list that is about to expire, and he's been delaying going into the Fire Department, so he could squeeze another year out of the Raiders, who've kept him on the roster this year as the fourth-string quarterback playing mainly in special games. So I guess he sees the handwriting on the wall about his NFL career coming to an end. I heard he's accepted the job in the Fire Department and is scheduled to go to the fire college in March.
O'Connell hates him because he caused the accident that caused Cal to withdraw the scholarship offer they had made to O'Connell  — that they then gave to Cassidy.
O'Connell has never been the same. He's an alky. Dropped out of St. Mary's. Can't hold a job, living in his mother's house. This should be an interesting weekend with him.
Go Raiders!