Wednesday, January 19, 2000
Just got back from the funeral at St. Mary's Catheral for Kirk Brookbush who was killed on January 13th, when the SFPD helicopter he was flying crashed in a barren field on a foggy, drizzly night in the San Joaquin Valley. Jim Doughety was also killed. They were returning the chopper from being serviced in Porterville, near Bakersfield.
Kirk was a member of my SFPD 122nd Recruit Class.
Apparently they got lost in a heavy night fog after they descended to about 1,000 feet for a clearer view. But they then disappeared from radar. The wreckage wasn't found until morning in a muddy field near Interstate 5.
There was a big crowd for the funeral, maybe 3,000 people. That was nice.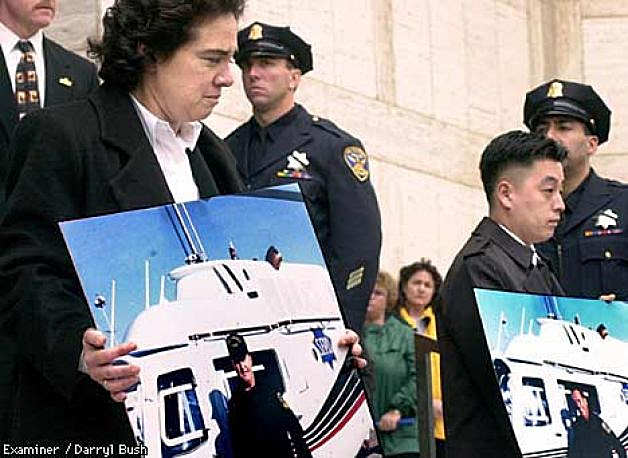 Everyone in the 122nd Recruit Class stood in a separate formation and saluted our fallen classmates, Jim Bloesch, who was killed in the line of duty in 1988 and Kirk.
Brookbush had just made Inspector and became one of the department's helicopter pilots. If there was a guy who "Bled Blue" in the SFPD it was "Ambush." He loved the job. Won a Gold Medal of Valor for a gunfight back in 1980 when he was at the Taraval. Ton of commendations. He was a warrior who if he had to die would have wanted to go out on his shield. Served in Vietnam as an Airborne Ranger. A cop's cop who had the rare ability to laugh at himself and he could dish it out to others and take the roasting in return, like he did that night at the 25th class reunion.
Wow.
I remember the morning we entered the Academy back on Monday, September 11, 1972, when the Commander of the Academy told us that two members of our class were going to die in the line-of-duty.
He was right.
We all sat alphabetically in the Academy. The two guys to die sat right next to each other, Kirk Brookbush and Jim Bloesch.
Rest in Peace Guys. We will miss you. Jobs well done.