Thursday December 28, 1978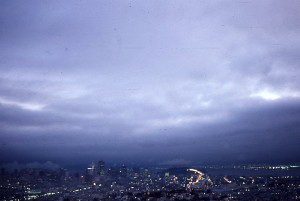 A gross night at work.
Early this evening, a couple in their late 30s was killed as they were crossing the street on their way to the movie at the Alexandria. A drunk driver in a big honker white pick-up truck made a right turn off of Geary onto 20th and just nailed them.
They didn't have a chance.
The man flew up into the windshield, but his wife got hung up on the bumper and was dragged underneath the truck. Then the rear wheels rolled over her head.
Meanwhile at the family's home two blocks away, the couple's three young children and the 14-year old babysitter heard the sirens and wondered what all the excitement was about.
I had to make the notifications and arrange for the kid's placement with relatives.
Enough …