Monday, January 21, 1974
The sound of sirens woke me this morning at 0302. Sat up in bed and looked out the window, shocked to see a huge wall of flames and a towering column of smoke rising straight up into the night sky.
I turned on the scanner radio: the SFFD was calling for a fifth alarm. They had a monster on their hands — that's as big as fires get in this city.
Got out my camera and took some pictures.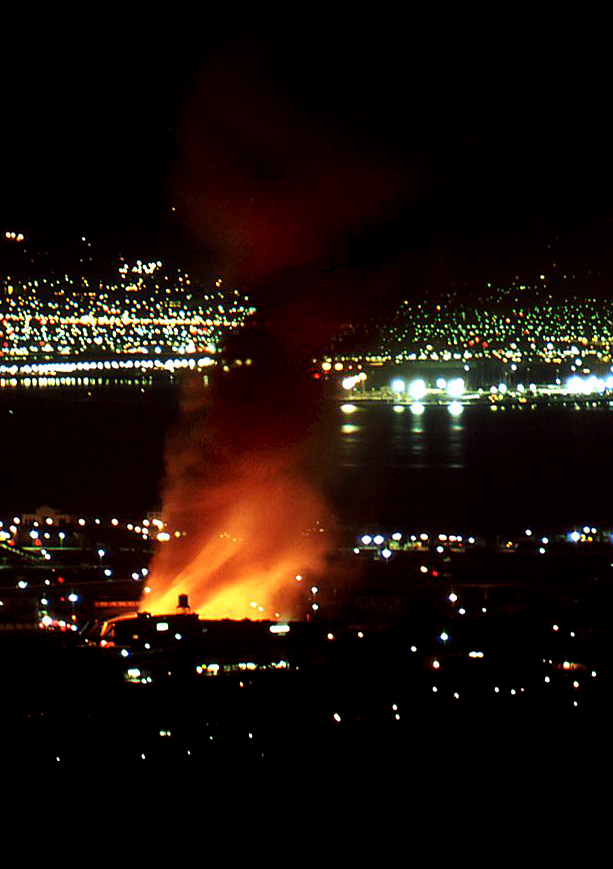 Spellbound by the flames, I couldn't go back to sleep.  Took some real men to get that fire out.There has been a lot of talk lately about letting women into the SFFD. I don't know. She's going to have to be someone EXCEPTIONAL.
I finally fell asleep about 0445, only to get up again at 7.
Dumb-ass in Court
I had to go to court for this dumb-ass grass bust made a couple weeks ago. We were called to this place at Clayton Street and Frederick by a guy who said his place was burglarized. When we get there, he's got marijuana plants growing all over the house and he said one of them was missing. The guy didn't show up for court — and a Failure-to-Appear warrant was issued. I made an easy $20 for four hours of court time.
Thanks, Dumb-ass
Karl Malden and The Streets of San Francisco
While I was at the Hall I saw Michael Douglas and Karl Malden filming a scene for The Streets of San Francisco TV show. That was Cool!