Thursday, March 22, 1973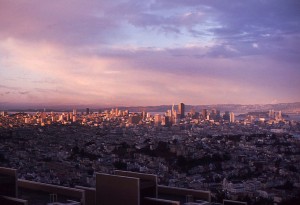 Day off today. A really wet winter, but this was the first  nice day in San Francisco in quite a while. Sunny and 65 degrees.
I'm surrounded by 30-year-old guys at work on the midnight watch. I don't want to get old like that. All married with kids—lot of them going through divorces. In the locker room, a guy hung this sign:
"Divorce is the screwing you get — for the screw you got."
I don't want to get old. I don't want to get married. Eight more years till I turn thirty. Shit.
Worked with Garner the other night. He's old but Cool! Showed him the place I'm moving into tomorrow up in Diamond Heights. As we looked out at the great view of downtown San Francisco, he said,
"You got the world by the balls, kid."
He's about 40. I could tell he was jealous of me.
Shit, even I'm jealous of me ….