Saturday January 10, 1981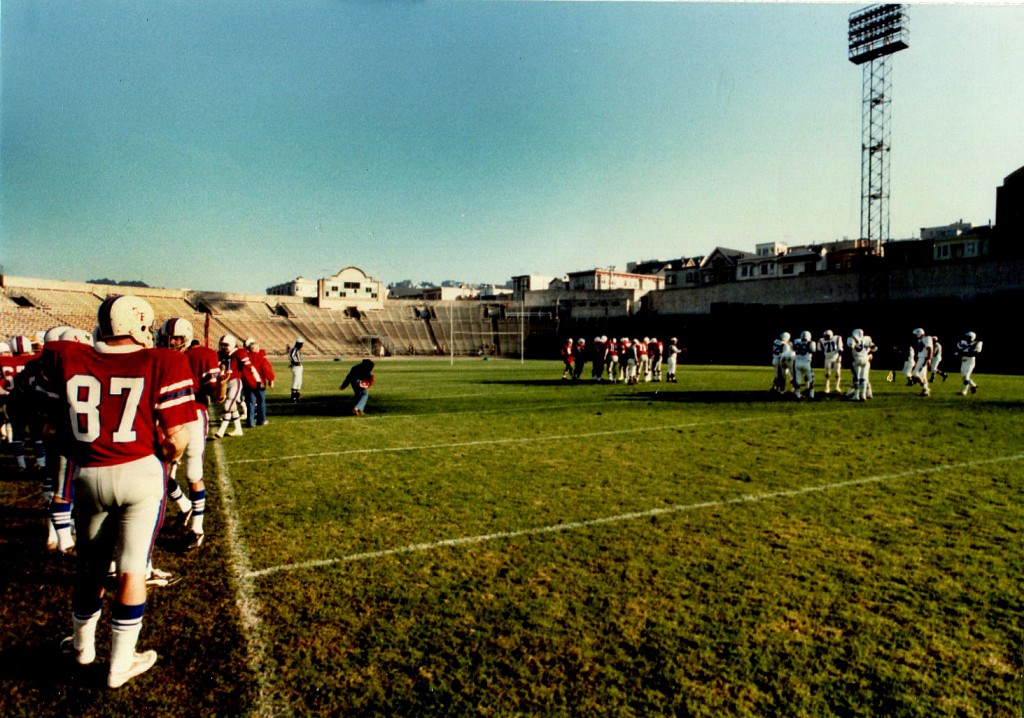 I took a huge step back in time today at Kezar Stadium.
Last fall a bunch of guys decided to form an SFPD tackle football team. We actually got about 40 guys to come out, buy their own gear, and start knocking heads. So this afternoon we played a tackle football game against a team of Oakland cops.
I can't believe I got to suit up one more time and walk through the Kezar tunnel and come out onto that field. Never would have happened if I hadn't join the SFPD! And it never would have happened the way the department was a couple years ago.
But it DID today
The day brought back so many great memories from those Friday afternoons playing for S.I. It was sunny, but turned hazy as the sun was going down — just how it was back in 1966 when St. Ignatius played in the city AAA league.
We had a great crowd, maybe 3,000 people just on our side. Oakland had a decent crowd as well.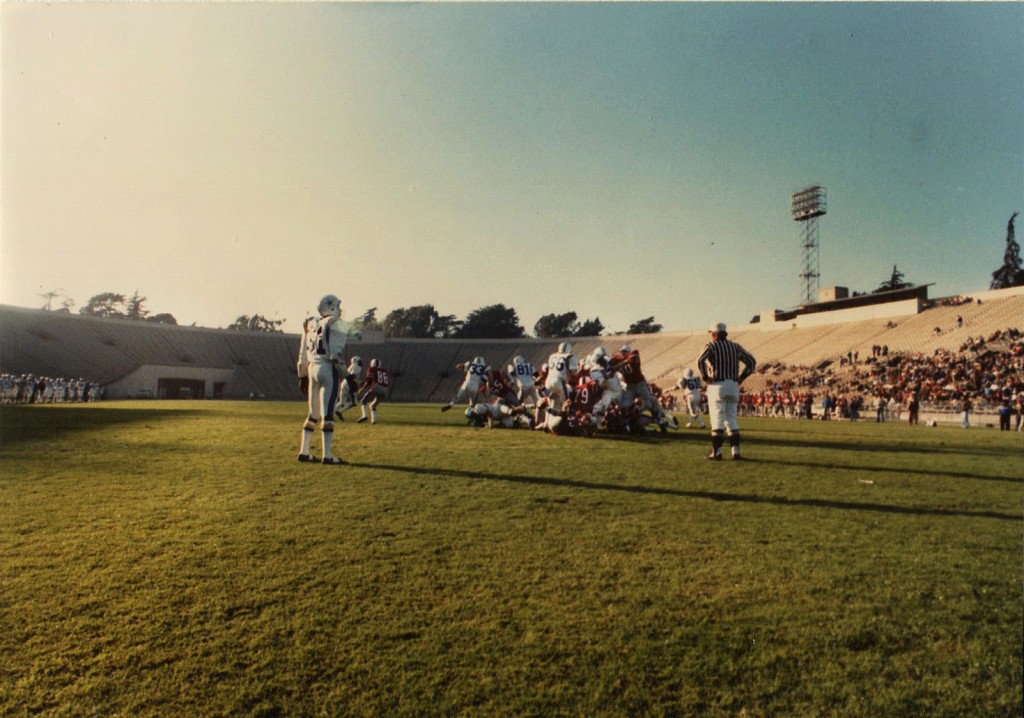 We even had an exciting game. The San Francisco Centurions came back in the last minute and won on a two-point conversion 14-13.
I played my old positions: right outside linebacker and second string blocking tight end. Our uniforms even looked like the old red St. Ignatius high school jerseys with blue trim and white numbers. We had white Riddell helmets with an "SF" logo, and I had the same half cage face mask. I even wore my old S.I. 1967 Riddell XP lightweight black cleats, and they held together!
Unfortunately I didn't.
In the middle of the third quarter, I was playing offense; during a run play, I was blocking down on a guy when we fumbled. I recovered the ball. but somebody fell on my ankle from behind and hyper-extended it, so I got one of those "high-ankle" sprains.
I just got back from our victory celebration at the Kezar Club across the street from the stadium on Stanyan Street, and it's really hurting now. I've got ice on it. But I feel great sitting here looking out at the City with the fireplace going and feeling the warm blush of victory.
What a great feeling this whole day was
We had the sunny side — north sideline which we used to have all the time at S.I. Only thing missing was the school band and the big block "S.I." that the student body would create in the rooting section with everyone wearing a white shirt and the letters "S" and "I" formed with red and blue jackets of the juniors and seniors.
The game was actually disorientating for a while. Con Murphy, the Police Chief came into the locker room before the game and gave us a pep talk. It was really cool. What a good guy! The department is healing.
When we left the locker room to go out onto the field, the memories of 15 years ago on Turkey Day all came flooding back. I could hear the sound of the cleats crunching the gravel and smell the dust hanging in the air. I expected Coach Lou Paganini's voice at any moment to be screaming at us, "Time to take your diapers off and be men," like he did during the 1966 Turkey Day game.
Instead the tunnel echoed with everybody stated chanting, "SF" … "PD" … "SF" … "PD."
It was really awe-inspiring. That was the first time I've ever really felt proud to be a member of the SFPD! What a moment to be able to come full circle in my life and experience that adrenaline rush again! It really felt like we were going out to play Sacred Heart for the Bruce/Mahoney Trophy or Lowell for the Turkey Day championship. I felt the same big pit in my stomach and my mouth was dry.
Wow!
So as I'm sitting here tonight feeling incredible, despite an ice bag on my ankle, I'm also toasting my retirement from football at age 30. Only wish my father could have lived long enough to see his son play at Kezar where he took me to watch a lot of 49ers games.
So thank you football . . .for one more incredible afternoon at Kezar Stadium.