Tuesday, May 2, 1978
I spent the day wandering around the Principality of Monaco. Wow.
I walked up to the Palace and had my picture taken with Monte Carlo and the harbor in the background. Then I went down to the harbor.
The highlight of the day was getting tickets for the race on Sunday. Standing in a line in Monaco is a lot different than standing in a line in San Francisco. You have to push and shove your way to the front. It helped to be 27 years old, 6.3 and 230 pounds, and in decent shape.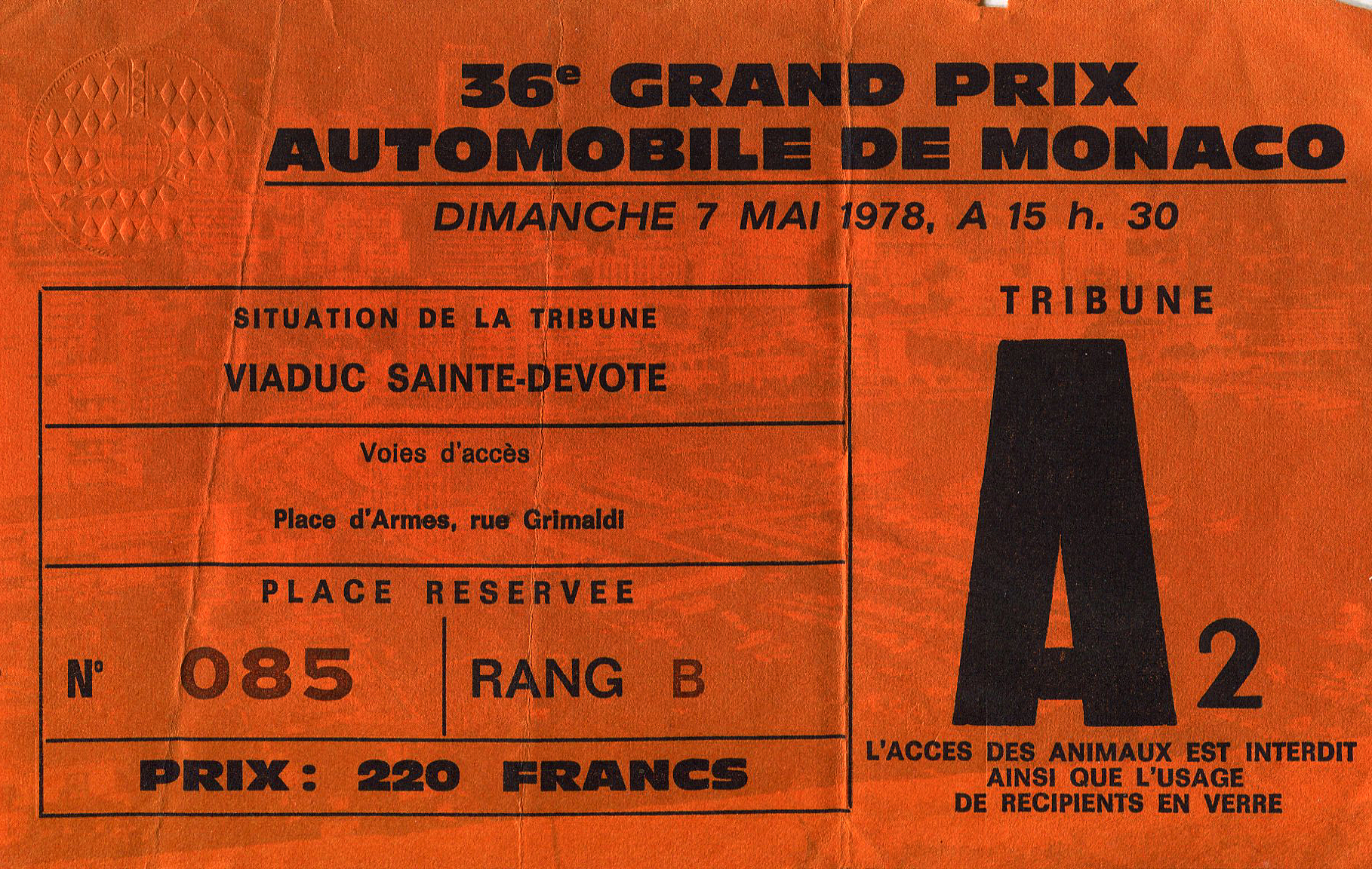 After 45 minutes of battling for position, I got a ticket above the Ste. Devote corner for 220 francs -$44! That's a day's salary in the SFPD. But as they say, you only go around once in life.
Obviously everyone is speaking French. I wish I would have paid more attention back in French language classes at S.I. But I could only remember some very basic words.
Tonight I went to the Casino Monte Carlo.
For some reason I figured I had to wear a tuxedo to get into the place, so back in San Francisco, I rented one from Selix and brought it with me. I got all dressed up and walked from the hotel through the gardens surrounding Casino Square. Parked out in front of Casino Monte Carlo were all kinds of Ferraris and Rolls. Impressive. I looked like I would fit right in.
Back in San Francisco, I had exchanged $500 to francs. I still can't figure out the conversion from dollars to francs, yet. But, I think, it cost about $5.00 just to get into the casino!
Entering the main gambling area, I realized this is not Reno. The place had a gold ornate ceiling and red carpet. Croupiers dressed in blue tuxedo with silk socks and military shines on their shoes ran all the tables.
So I fit right in with my black tux – right?
Wrong. Everyone else is in the main casino was wearing shorts, flip-flops and jeans.
I couldn't believe it. They're looking at me like I'm a somebody — so I wandered around trying to look cool. They did have private gaming saloons in the back where I suppose I would have looked more appropriate, but I sat down at a table on the main casino floor.
All as if I was in a James Bond movie.
The croupiers were amazingly dexterous. They placed all the bets. Forbidden from touching the table you handed your marker to the croupier. Those guys were amazing. They could toss a player's marker accurately onto the table, hitting the numbers you wanted without problem.
I went through 30 francs real quick and got up. A guy sitting next to me left also. But as he got up, he capriciously tossed a 100 franc marker ($500.00 – more than a week's pay in the SFPD) to the croupier to place his bet. Then as he's walking away from the table he casually glances back to see if he won.
He hadn't.